There are some Covid-19 measures in place in all classes
1. A sanitised chair will be provided which can be cleaned after the class.
2. One person in the toilet at a time and to be wiped after use.
4. Sanitising sprays are provided for your use.
5. Masks ideally to be worn throughout the session, when moving through the Form and on arrival and exiting.
6. Social distancing will be maintained throughout the session including with me.
7. Current phone numbers taken for Track and Trace.
IF YOU BELIEVE YOU HAVE ANY SYMPTOMS OF COVID PLEASE DON'T COME TO THE CLASS.
——————————————————————————————————————
Due to the circumstances and limiting the numbers I will apply a booking system



I will be asking for payments of one month at a time
Please note that there may be some dispensation by prior arrangement if you need to miss 1 class in any 4 weeks but not on a regular basis


Holiday arrangements can be discussed


I will apply a waiting list


There is no refund if you miss a class
Please note that if Government guidelines change or we go into another lockdown and we have to close the classes again, or if I am ill and I have to cancel then all outstanding fees will be refunded immediately I have to cancel then of course I will refund. This is why I'm gingerly creeping forward 4 weeks at a time rather than the usual termly fee. I have updated the website to explain this, thanks for pointing it out.
Classes are taught by Laraine Tucker, please call Laraine on 07779434742 or email larainetucker@icloud.com

🦠🦠This Class is paused 🦠🦠
Mondays 9:45 – 11:00am Swannington
Yang Style 24 Form
Swannington Village Hall, Main Street, Swannington. LE67 8QL
£7.50 x 4 weeks = £30 GP Referral £4.60 per session (PAYG)
🦠🦠This Class is paused🦠🦠

Monday 6:30 – 8:00pm Leicester
Partner Practice. Only open to current students of String of Pearls Tai Chi.
Friends Meeting House, 16 Queens Road, Leicester. LE2 1WP, on-street parking only.
Please inquire directly: taiji.kneadinghands@icloud.com
🦠🦠This Class is paused 🦠🦠
Tuesdays 1:30 – 3pm Birstall, Leicester
Yang Style 24 Form
Co-op Sports and Social Club
Birstall Road
Birstall, LE4 4DE
£8.25 per session x 4 weeks = £33
🦠🦠This Class is paused🦠🦠

Tuesdays 7:00 – 8:00pm and 8:15 - 9:00pm Rushey Mead, North Leicester
7:00 – 8:00pm Yang Style 37 Form,
8:15 – 9:00pm Intermediate/Advanced Class – Yang 32 Sword Form / Kneading Hands
The Dance Studio. Rushey Mead Academy, Melton Road, Leicester. LE4 7AN
£7 per class or £9 for both classes
🦠🦠This Class is paused 🦠🦠
Thursdays 10:00am – 11:30 Evington, Leicester
Chen Style 19 Form
Mayflower Methodist Church, Ethel Road, Leicester. LE5 5ND
£8.25 per session X 4 weeks = £33
🦠🦠This Class is paused🦠🦠

Thursdays 3:30 – 5pm Glen Parva, South Leicester
Chen Style 19 Form
Galsworthy Suite, Glen Parva War Memorial Hall, 50 Dorothy Ave, Glen Parva, Leicester. LE2 9JD
£7 per session
...........................................................................................................................................................................................
These classes are taught by Bev Robinson. Please call Bev on 07732 455709
🦠🦠This Class is paused🦠🦠
Thursdays 7:15 – 8:30 and 8:45 – 9:30 Shepshed, Loughborough
7:15 – 8:30 Beginners
8:45 – 9:30 Advanced
Yang Style 24 Form
St Winefride's Church Annexe, 50 Charnwood Road, Shepshed, Loughborough. LE12 9QF
(Entrance to the car park and annexe at the rear of the Church, turn right at the Tesco)
This class is ongoing
£5 per class or £7 for both classes
All venues have dedicated, private car parks.
All the classes above include a warm-up, postural and breath work, and qigong.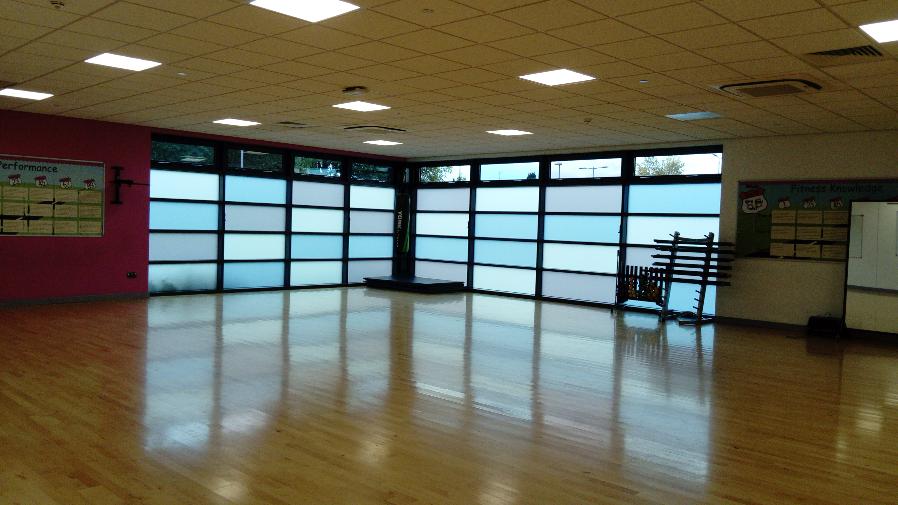 Above: The spacious dance studio at the Rushey Mead Academy